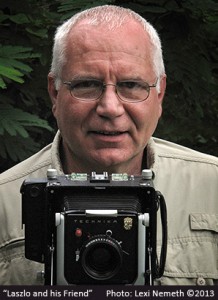 Dr. Laszlo Perlaky is a research scientist, Baylor College of Medicine faculty member at Texas Children's Cancer and Hematology Centers during the week and an avid Fine Art Landscape and Nature photographer on the weekends. He was born and raised in Hungary, traveled throughout Europe, Japan and the USA, finally settling with his wife Alexandra Nemeth and two children in Houston, TX in 1990. Beside his PhD in Biochemistry and Pharmacology and MS in Pharmacology degrees, he has a diploma from Professional Photography, took workshops from numerous well-known-photographers. 
His high affinity towards both the natural environment and the camera helped him pursue photography and perfect his craft. Laszlo started to photograph black and white negative and color slides about 50 years ago, and mastered in black and white printing and slide showmanship, and later, he transitioned to digital photography, but even he had many successful digital color portfolios, he gradually transitioned to his long time dream, the large-format (4×5 and 8×10) film, in the past 8 years.
He is member of several national and international photographic societies (Houston Photographic Society (HPS), Houston Center for Photography (HCP), Pixel+Silver Art Group (Houston, TX), Houston Photographic Study Group (HPSG), Texas Photographic Collectors Association (TPCA), New England Large Format Photography Collective (NELFPC), Houston Audubon Nature Photography Association (HANPA),  and the Hungarian Society of Nature Photographers (naturArt), (Hungary).
Laszlo is a Past Editor and Publisher (Silver Image, Houston Photographic Society's Newsletter in 2001 and 2003) and Past Print Competition Vice President at the Houston Photographic Society in 2014. Based on his dedicated work with the Silver Image, Laszlo received several Appreciation Awards and the very prestigious Ullman Plaque for his dedicated service to the Houston Photographic Society in 2004.
Laszlo leads his monthly free Photo-walks at Brazos Bend State Park, where he was recognized with the Excellence (2004) and Emeritus awards (2011). Laszlo teaches a wide variety of photography classes and workshops at the Houston Center for Photography, Houston Audubon Society, is a photography instructor at the Houston Photography Study Group and leads his Naturalperl Sunrise and Sunset workshops.
Laszlo's photographs were published in magazines such as Birder's World (USA), Natur Foto (Germany), Nimrod (Hungary), books (Wildlife Photographer of the Year: Portfolio 16, 2006, Wildlife Photographer of the Year: Portfolio 11, 2001, Best of Photography Annual 1998 and 2014, Fotofest 2012, and many Gallery Exhibition Catalogs), calendars, and won several prizes in national and international photo competitions (Highly Commended at Shell / BBC Wildlife Photographer of the Year 2006 and 2001, London), several of his images were in the Final at the Wildlife Photographer of the Year 2003 – 2013 and the Nature's Best international contest 2003 – 2013 and one of his photographs was Nominee for the Black and White Spider Awards 2014.
Laszlo's images extensively were presented in several art exhibitions in 2004-2013, such as Fotofest, HCP Print Sale, Multimedia Show, TAACCL Exhibitions, Amanda Smith Gallery, Karen Vernon Gallery, Betz Gallery, Fayetteville ArtWalk, Aker Imaging Gallery, Bayou City Art Festival and New England Large Format Collective's group exhibitions 2008-2014. Laszlo's "Nature's Softies" and "On Wings", "Panoramic Vision"; together with his wife Lexi's "Drops" and "Reflections" portfolios were exhibited at the Freeman Library at Clearlake and at Fill Your Cup Coffee Shop Gallery at Richmond TX in 2006-2009. Their Body of works, presented at Fayetteville Art Walks, received the "Best of 2D" award in 2008 and "2nd Place 2D" award in 2009. About 80 of Laszlo's and Lexi's photographic arts are on permanent exhibition at several places in the Texas Medical Center, UH Pearland and UH Clear Lake.