Similarly, to the previous years, Year 2017 was a great and successful year for us, even we had some cloudy days. However, Lexi and I still work at the same workplace where we started in Houston 28 years ago. Lexi as a Mohs Histotech, works at DermSurgery Associates and I as a faculty of Baylor College of Medicine, Scientific Director of Research and Tissue Support Services Core, work at Texas Children's Cancer and Hematology Centers. Last year, as a contributing author, we published 4 scientific papers and I taught my Medical Students at Baylor through 5 Terms. As a second profession and passion, Lexi and I, are Photographic Artists. We submitted our images to 31 different Competitions during last year, and 15 accepted our works for exhibition and won several awards. Eleven of our images received awards at the Houston Photographic Society's monthly print competitions, and qualified for the Year End Contest. I continued my "Through the Lens" monthly photography workshops at Brazos Bend State Park TX, presented 18 workshops for the Houston Center for Photography and led 4 critique discussion meetings for the Houston Photographic Study Group. Snapfish printed our new Portfolio desk calendars and we were happy to give those to our Friends and Colleagues. To record our intimate connection to Nature, Lexi used her Nikon DSLR system and I tried to make my images on sheet film with my Linhof and Deardorf large format film cameras.
Now, few words about the cloudy days. Hurricane Harvey caused huge flood in Houston area at end of August. Two hundred thousands of houses flooded and about 1 million residents lost their homes. Our house never flooded before, but this time, the water came into the house, and everything was soaked in 6.5 inches flood water. We were lucky, because the house did not lose electricity, did not get molds and few weeks after we removed the inside walls and hardwood flooring, we were able to dry it out completely. We had flood insurance, we received the restoration permit from the City, and 4 months after the flood, and after more than 1600 hours of own works on the remodeling project, we hope that we will able to complete the restoration at end of January this year. What a nice gift for us for our 65th birthdays in January 2018!
I strongly believe, 2018 will be a great year! We are full with hopes, energy and new plans for the New Year. I am sure your New Year will be good too.
My wife Lexi and I are wishing all of our friends a safe, healthy, happy and prosperous New Year on one of my photographs, taken at Wichita Mountains NWR, Oklahoma.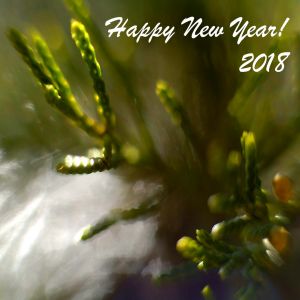 Notes from FaceBook and e-mails:
Thanks Laszlo and Lexi.  What a treat to read and what a great joy that you both are in my life.  May this next year be the best ever for you.  Regards, Joe (Joe Aker)

What a great note!  The two of you have certainly been busy this past year…and with a flood thrown in the middle of things!  So glad to hear you'll be back in your home soon. It's wonderful that the two of you share the same passion for the medical sciences (I'm a cancer patient so very much appreciate your work there) and photography.  Congratulations on your exhibitions and awards.  I've enjoyed seeing your work at Pixels and look forward to viewing more in the months ahead.  I finally took the step and attended a Santa Fe Photographic Workshop on Creating the B&W Digital Master Print a few weeks ago…and it was truly a game-changer for me.  Hopefully you'll see a few of my images at the next Pixels meeting on Monday. Happy New Year and blessings for 2018! Allen (Allen Bourne)

You guys had a busy year. I got tired just reading about it. Happy New Year to you both. Lou (Louis and Emilce Vest)