Lexi and Laszlo are invited Fine Art Photographic Artists at newly reorganized JoMar Visions Studios Gallery (5249 Langfield Rd. Houston TX 77040) (link) for the "Future of Humanity" Fotofest 2018 exhibition. We will be there on March 17, 18 and 23. See the link.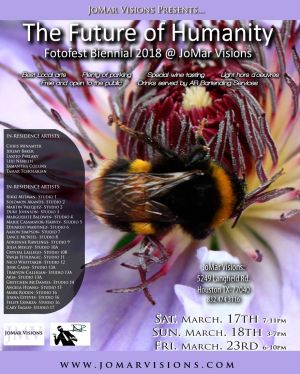 Six of Lexi's selected images will be exhibited from her Portfolios. Enjoy few of Lexi's exhibited color images:
Enjoy few of Laszlo's large format film based photographs selected from his "Hair of the Cherokee Woman" and "Giants" Portfolios:
The Fotofest biennial is a prestigious photographic event which comes around once every two years. We are very proud to once again be one of the offciial participating spaces and his year's event at joMar Visions will be titled "The Future of Humanity". The interpretations are endless, but just imagine what your concept is of the future of humanity?
Contemplate man's continuing symbiotic and increasingly competitive relationship with nature, the animal kingdom and the face of the planet. Think of modern technology, and the ways in which the abilities and even the very makeup of humanity is changing over time. The future of humanity is affected by many things, and represents the saga of one of the planets most important species. The artists create their visions based on the theme, however tangential or direct, and show the world what it means to them. Where do you think we are headed? What lessons do the past hold which may in fact foretell one possible future or another? The choices are endless!
– Best Local Fine Art
– Free & Open to the public
– Plenty of on site Parking
– Complimentary Hors d'Oeuvres
– Drinks served by @AR Bartending Service
INVITED GUEST ARTISTS:
Chris Minamyer
Jeremy Baker
Laszlo Perlaky
Lexi Nemeth
Samantha Collins
Tamar Tcholakian
IN-RESIDENCE ARTISTS:
Rikki Mitman- Studio 1
Solomon Akande- Studio 2
Martin Vazquez- Studio 2
Duke Johnson- Studio 3
Marguerite Baldwin- Studio 4
Marie Casamayor-Harvey- Studio 5
Eduardo Martinez- Studio 6
Aaron Simpson- Studio 7
Lance McNeel- Studio 8
Adrienne Rawlings- Studio 9
Julia Misley- Studio 10A
Crystal Lallego- Studio 10B
Vanja Fetahagic- Studio 11
Nico Whittaker- Studio 12
Jesse Casas- Studio 13A
Traevon Calligan- Studio 13A
Aria- Studio 13A
Gretchen McDaniel- Studio 14
Angela Hoang- Studio 15
Mark Roden- Studio 16
Joana Esteves- Studio 16
Felipe Esparza- Studio 16
Cary Fagan- Studio 17
— with Marguerite Baldwin, Martin Vazquez, Vanja Fetahagic and 21 others at JoMar Visions.
Comments from e-mails and Facebook:
Wow, this is great. Will you be there all days? Thanks, Joe (Joe Aker)
Congratulations to the both of you. David (David Lobato)
Congratulations! It looks like a great show! Am out of town again this weekend but will try to come by on the 23rd. Aileen (Aileen Harding)
Congratulations, Laszlo and Lexi! Garry (Garry Watson)
Congratulations Lazlo and Lexi B. (Bob Schwartz)
Congratulations, Laci and Lexi! You are both amazing! (Ben (Dr. Ben Valdez)
Fantastic! Ron (Ron Fontenot)
Congratulations! Great photos. . . wish we could be there! (Susan Harlin)
Very nice Laszlo !! (Steve Sherman)
Congratulations!!!! Beautiful photographs! Wish we could make it. Hope you have a great exhibit and a big turnout. JB (JB Harlin)